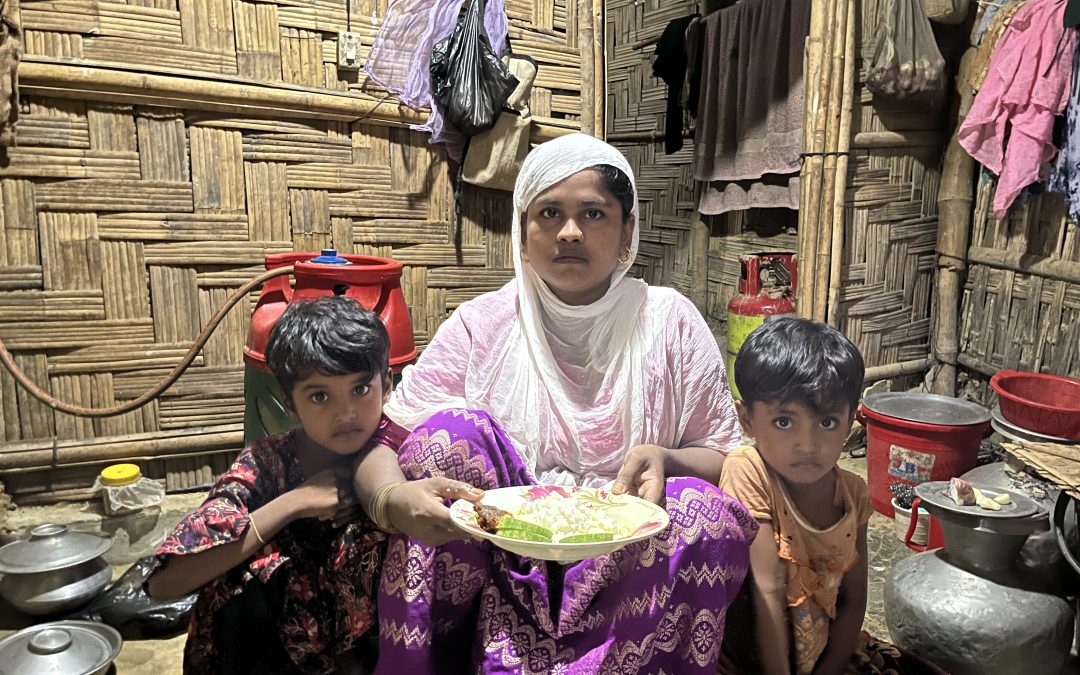 By Syed Md Tafhim
Faced with a global funding shortage, the World Food Programme recently implemented a new round of food ration cuts for Rohingya refugees living in the world's largest refugee camp.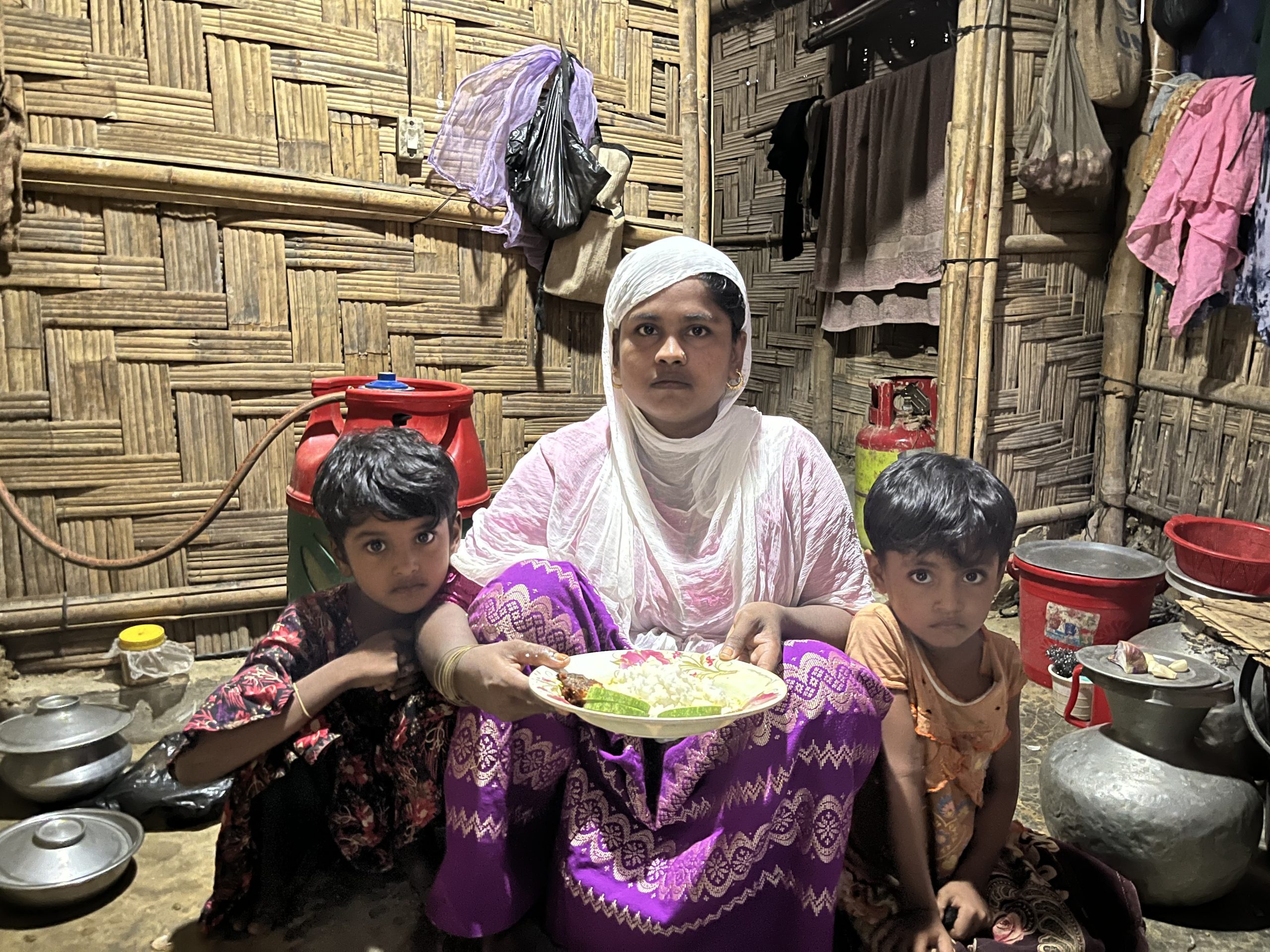 Rukhsaira is currently limited to eating only cucumbers and fish twice a day along with her children. Photo © ISCG, Arjun Jain
The nutrition and health consequences stand to be devastating, particularly for women and children and the most vulnerable in the community.
Among those affected is 27-year-old Rukhsaira, who arrived from Burma (Myanmar). Her husband tragically passed away two years ago due to illness. Now, she is trying to raise her two children on her own. She said-
"Just six months ago, three meals per day were provided to us. Our plates were filled with a variety of nutritious options, including rice, bitter gourd, potato fry, eggs, sweet pumpkins, and ladies' finger, accompanied by small fishes. Now we can only eat twice a day with my kids with only cucumbers and fish"
Due to a massive funding shortfall, drastic measures were taken. WFP was forced to cut the value of food vouchers for camp residents for the second time in three months at the beginning of June. From receiving $12 a month at the beginning of the year, refugees saw their rations cut to $10 in March, and now to just $8, or 27 cents a day.
With rations reduced, Rukhsaira and her children were left with only two meals each day. Their diet was now limited to cucumbers and fish, lacking the diverse range of nutrients they had previously enjoyed.
The consequences of these cuts have been severe. Previously, each person received approximately 2100 kilocalories (KCal) per day, ensuring sufficient intake for their well-being. However, the current ration provides less than 1700 KCal, exacerbating issues of malnutrition and hunger among the refugees.
The effects have been particularly pronounced among the most vulnerable individuals—children and the elderly. Their weakened immune systems have made them more susceptible to illnesses, resulting in prolonged struggles for recovery.
In addition to the physical challenges, the emotional toll on the refugee community has been substantial. Feelings of abandonment and insignificance have permeated throughout the camp as refugees face increasing anxiety and the reality of uncertain mealtimes. The burden weighs heavily on their minds, compounding the stress and anxiety already inherent in their displaced lives.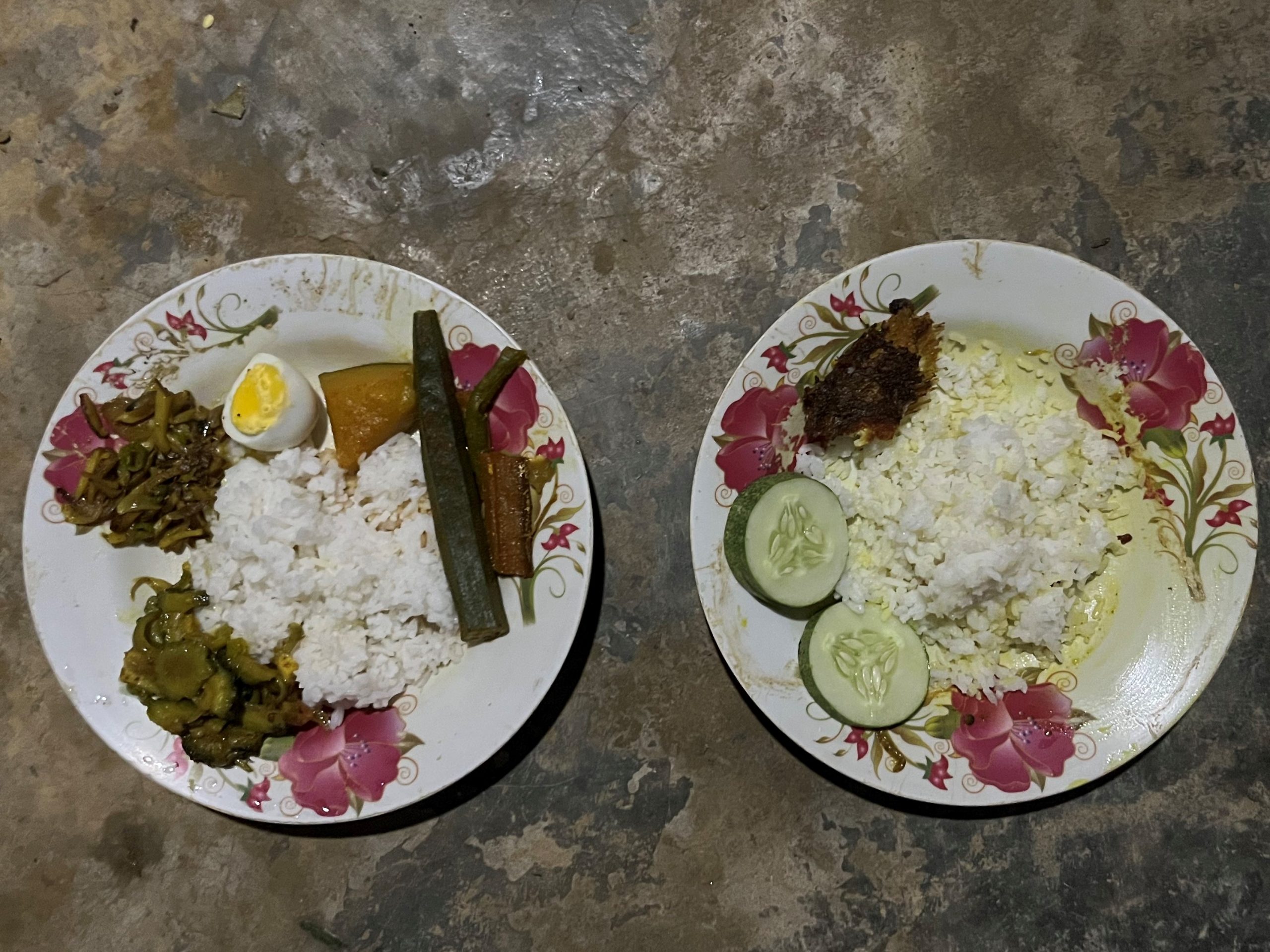 This photo illustrates the stark consequences of the Food Ration Cut. Rukhsaira's family, who once enjoyed three meals a day with an intake of 2,100 Kcal, now struggle with less than 1,700 Kcal per person per day. Photo © ISCG
Despite these hardships, Rukhsaira considers herself relatively fortunate compared to others in the camp. As a single female head of household, she has been granted the opportunity to work in a Jute Production Centre, earning a modest income that helps meet the urgent needs of her family. Unfortunately, the vast majority of families lack this privilege, further exacerbating their precarious situation.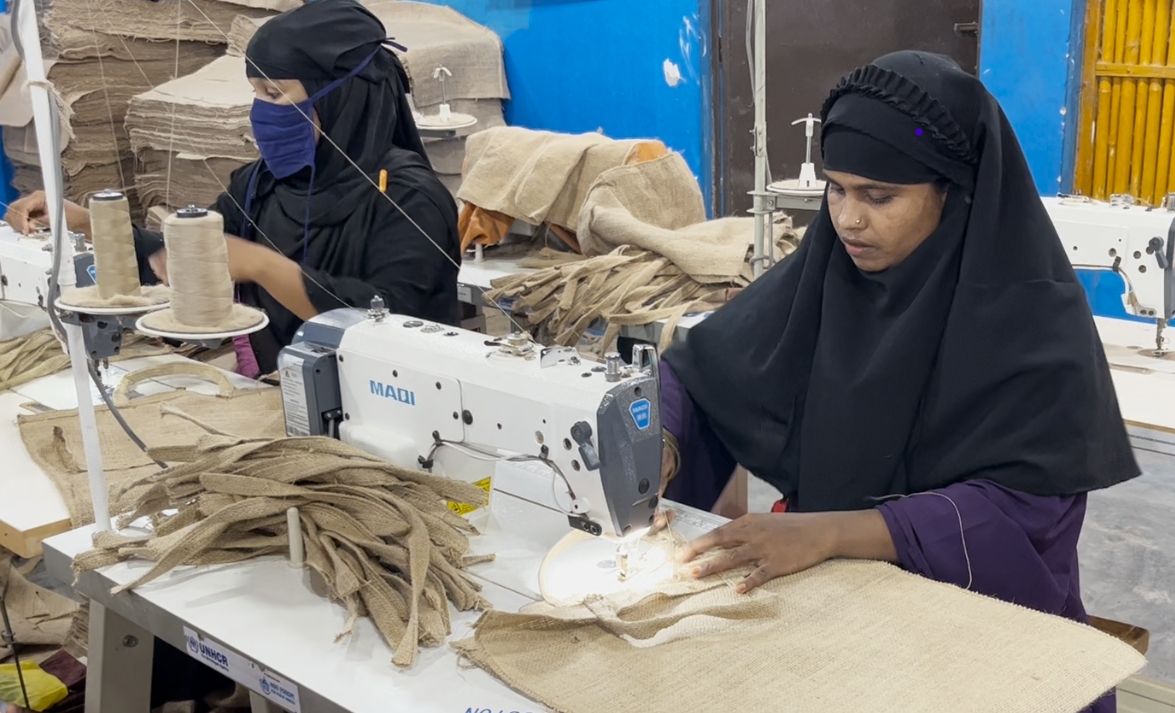 Rukhsaira, a single mother, finds employment through UNHCR-supported national NGO named NGO Forum, enabling her to purchase additional food from the market. Photo © ISCG
They continue to live in dire conditions, struggling to feed their children while witnessing the further deterioration of their already fragile health. Each day is a battle for survival, characterized by limited resources and an uncertain future.
Their hope now lies with the international community, as the United Nations and its partners fervently appeal for assistance and support to ensure that no one within the refugee camp goes hungry.
Media Contacts:
In Dhaka: Igor Sazonov, UN Resident Coordinator's Office, [email protected], +8801321169633
In Cox's Bazar: Syed Md Tafhim, Inter Sector Coordination Group, [email protected], +8801850018235 and Faik Uyanık, Inter Sector Coordination Group, [email protected], +8801847421667